February 2019
I had a great time giving two talks at the University of Calgary on Galapagos tortoises. One to the Faculty of Veterinary Medicine and the other to the Ecology and Evolutionary Biology seminar series within Department of Biological Sciences. Thank you Jocelyn Poissant for being host to both.
October 2018
I had a great time giving a guest lecture in the Conservation Biology class at MacEwan University. Thank you Jessica Haines for the invitation to talk about Galapagos tortoises.
June 2018
Our paper on rediscovering an number of individuals from the previously "extinct" Floreana Galapagos tortoise was one of the 100 most read Ecology papers in Scientific Reports in 2017!
December 2017
The symposium Dr. Cathy Cullingham, Dr. Jasmine Janes, and I proposed for CSEE 2018 was accepted!! Look forward to a great line up of speakers discussing  "Evolutionary Conservation: Where are we at? Where are we going?".
October 2017
Excited to be giving the Organisms & Environment seminar talk this week at Cardiff University. Thanks to Frank Hailer for the invite!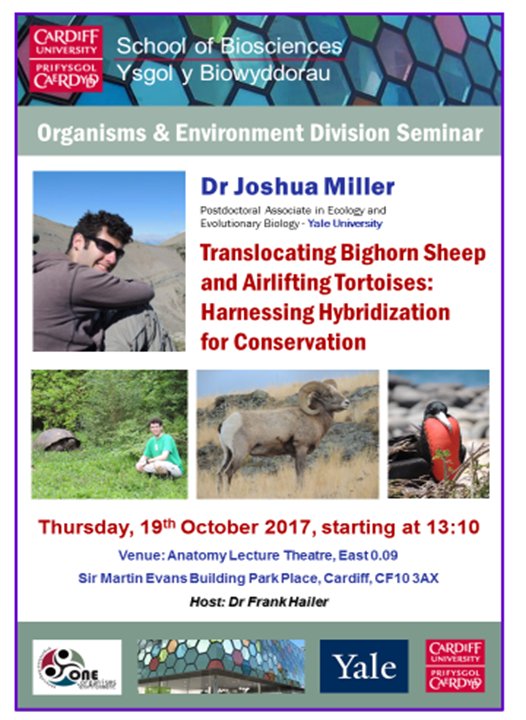 September 2017
A big week here, two papers came out back to back! One led by Stephen Gaughran on genomic differentiation among three species of Galapagos tortoises. And a second led by me showing that we found over 60 individuals with genetic ancestry from the Floreana tortoise which was once thought to be extinct! These 23 of these individuals are currently housed on Santa Cruz island and will form the basis of a breeding program aimed at reintroducing Floreana tortoises to their ancestral island. See a really great summary of this work and the next steps from our collaborators at the Galapagos Conservancy, and I was interviewed about it by the International Business Times.
August 2017
Yale Open Labs has just released a couple of videos showing two of their classroom demonstrations, including one featuring me on how to extract DNA from a strawberry with ever-day household ingredients. Check it out here along with another on angular momentum.
July 2017
I had a great time at the Evolution Meeting in Portland Oregon. It was great to hear about the latest research, reconnect with friends and collaborators, and meet new people. For those who couldn't make it, many of the talk are available on YouTube. One of the new people I met was Toby Fountain, currently a post-doctoral scholar at Uppsala, and he was kind enough to ask me to be a guest on his podcast Slightly Evolved. If you want to hear me talk about the conference and some of the research I have been doing check out Episode 22: Live from Evolution 2017. I'm the second person interviewed, starting at about 5:10, but I encourage everyone to listen to the entire episode!
December 2016
Big Congratulations to Michelle Viengkone on publication of her paper on polar bear population structure, and snagging the cover of Ecology and Evolution! I am proud to be a co-author on this exciting work.
September 2016
I had a great time talking "Genomics for wildlife studies" with the Cochrane office of Alberta Environment and Parks.
July 2016
Our CSEE 2016 symposium, "The potential for genomics to inform wildlife management and conservation" was a great success! Thank you to all the speakers as well as my co-organizer Dr. Cathy Cullingham.
March 2016
I'll be visiting Dr. Jill Hamilton at North Dakota State University March 3 – 4th and give a departmental seminar talk "Airlifting Tortoises and Translocating Bighorn Sheep: Harnessing Genomics and Hybridization for Conservation".
Jan 2016
Excited that the symposium Dr. Cathy Cullingham and I proposed for CSEE 2016 was accepted!! Looking forward to organizing "The potential for genomics to inform wildlife management and conservation".
Dec 2015
I just returned from an amazing sampling trip in the Galapagos. This was a major effort involving researchers, conservationist, veterinarians, and park staff from Yale, the Galapagos Conservancy, Galapagos National Park, and SUNY Syracuse College of Environmental Science and Forestry to name a few.
It was extremely successful with over 1300 tortoises measured, over 100 blood samples taken for genetic analysis, and 35 individuals relocated to the Fausto Llerena Breeding Center on Santa Cruz Island to hopefully start a captive breeding program. Really good summaries of the trip, its goals, and future plans were written by Nature and the New York Times.